If you are looking for the best storage option for
your boat or RV, Storage of Mid-America
Harrisonville has you covered!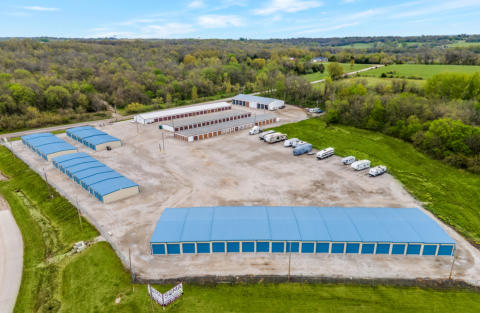 How much notice needs to be given be-
fore I move out?
Does the office have to be open for me
to get through the gate?
No, every customer has their own personal
gate code for 24/7 access.
What type of documentation do I need
to provide in order to rent a space?
Storage:
State issued ID an property
insurance certificate if you have one.
Outdoor Parking:
State issued ID, current
insurance and current registration, verification
of any lienholders/parties with secured
interest in the proprety
*Stored Vehicles must be in running condition
with current registration provided.
How do I make a payment?
You can make a payment in person, through
the mail, over the phone, website or an
overnight drop box as well.
Do I need to sign a long-term lease?
No, leases are month to month.
What forms of payment do you accept?
We accept checks, money orders, debit and
credit cards (Amex, Visa, Mastercard and
Discover)
STORAGE HELP
If you are looking for the best storage
option for your boat or RV, Storage of
Mid-America Harrisonville has you
covered!
The Benefits of
Storing Your
Belongings at SOMA
Harrisonville:

Boat & RV
Storage
From vehicle to boating storage, we
have something for everyone.
Rates You Can
Trust
Never worry about surprises in the
mail. Your rates won't increase for a
full year!
24-Hour Security &
On Site Managers
Our on-site managers guarantee
satisfaction and will ensure that any
issues are taken care of.
24-Hour / 7 Days a
Week Access
Total access is at your fingertips to
ensure the best experience.