STORAGE OF
MID-AMERICA
HARRISONVILLE
Storage of Mid America (SOMA) South is part
of a small network of premier Self-Storage
facilities throughout the Midwest. If you or
someone you know is moving to various areas
in Kansas or Missouri there may be one of our
facilities in your area. We are family-run
businesses that like to keep things personal
and avoid a commercial feel. We provide a
safe, clean, 24-hour access facility for
individuals and businesses to store an
assortment of items. We offer a variety of
sizes ranging from 5'x10' to 12'x45' indoor
spaces and outdoor parking spaces that go
from 10'x40' up to 12' x50'.
Whether you're a contractor, business,
or individual this facility is built with you
in mind. We feature a variety of unit
sizes, with drive-up accessible spaces
with the following sizes 5x10, 12x15,
10x15, 12x15, 12x20, 10x25,12x25,
10x40, and 12x35. With parking spaces
from 10'x40' up to 12'x40' and covered
parking at 12'x50'. Some notable
features are 24/7 access and 24-hour
surveillance cameras.
WHAT
WE DO
OUR STORAGE
OPTIONS
Want to keep your car, truck, boat, or
RV somewhere safe and secure? To
provide the security you require, we
have wide aisles and 24-hour security
cameras throughout the facility. If you
have belongings, we have space for
them. Get in touch with us today to
make your reservation! We have
storage units for anything you could
think of! Our most common requests
include RVs, boats, vehicles, and
personal property.
Can't seem to find the item you want
to store on our list? Contact us today,
and we'll connect you to a well-trained,
manager that will cater to your needs!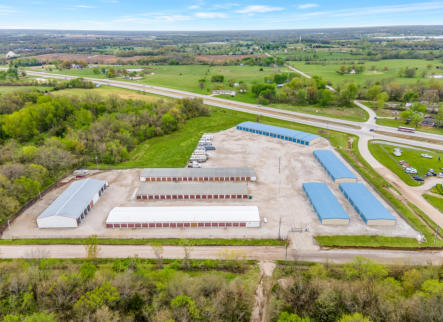 Current Features:
Boat & RV
Storage
From vehicle to boating storage, we
have something for everyone.
Rates You Can
Trust
Never worry about surprises in the
mail. Your rates won't increase for a
full year!
24-Hour Security &
On Site Managers
Our on-site managers guarantee
satisfaction and will ensure that any
issues are taken care of.
24-Hour / 7 Days a
Week Access
Total access is at your fingertips to
ensure the best experience.
WHAT SETS
US APART!
Local businesses can benefit from
storage units for a variety of reasons
including clearing out their workspaces
or storing their equipment and materials.
Individuals can benefit from storage for
even more reasons; clearing out space in
their garage or house, storing items you
don't need to get to often so you aren't
cluttering your everyday spaces. All of
our units have drive-up access, and our
24-hour gates allow you to quickly access
your belongings at any time day or night.
RELIABILITY
Storage of Mid-America Harrisonville
provides top of- the-line features that ensure
your belongings are kept safe and secure.
EXPERIENCE
We have over 20 years of experience! We
cater to a wide variety of customers and
each and every requirement.
CUSTOMER SATISFACTION
We go the extra mile to ensure that every
customer is satisfied with our facilities and
service. We hope you leave with a smile on
your face!
If you are looking for the best storage option for
your boat or RV, Storage of Mid-America
Harrisonville has you covered!



If you are looking for the best storage option
for your boat or RV, Storage of Mid-America
Harrisonville has you covered!